INDULGE YOURSELVES WITH AN UNFORGETTABLE HOLIDAY IN THE magical MACEDONIAN MOUNTAINS.
WONDERFUL SCENERY, OLD VILLAGES, splendid wines & delicious cuisine, hours of fun. every day.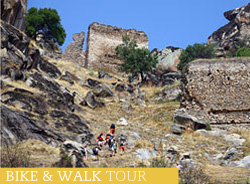 10 days of hiking, biking, horse riding, sightseeing, wine tasting, leasure... Refresh yourself and replenish your oxygen supplies in country's National Parks. Enjoy the endless combinations of unspoiled natural beauties and scenery. Spend your best holiday in our magical country. Come to the place where the sun always shines, Macedonia. Just remember to bring your camera.
Read more
About US
Our goal is to make your bike holiday in Macedonia an unforgettable one. The guided bike tours we offer are a unique way to connect with the nature and explore local culture, folklore, people and customs. In other words, everything this country has to offer for your pleasure.
Just relax and enjoy the ride.

Read more