EMERALD MACEDONIA | BIKE & walk TOUR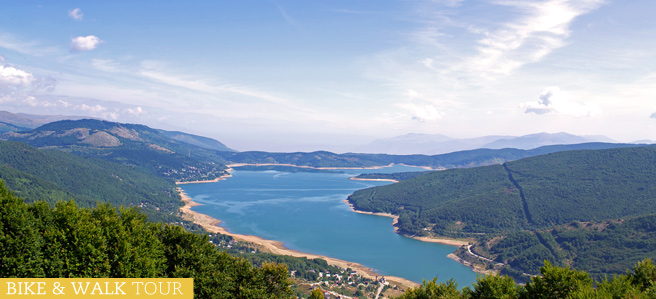 TOUR WITH GUARANTEED DEPARTURE DATES

We guarantee that all our tours will depart as scheduled subject to there being a minimum of 4 people booked on the tour.

Duration:
10 days / 9 nights
Dates:
Upon request
Number of Participants:
4 - 12
Tour grade:
Easy
Prices:
Confidental prices available upon request. Price depends on the number of participants.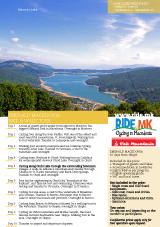 DOWNLOAD PDF
Bike Rental is available for this tour.

This tour can be organized on a different date and customized for you or your group. Contact us.

Please read carefully our Terms and Conditions for Tours With Guaranteed Departure Dates.
Lakes, waterfalls, mountains, lots of blue colour... Bike & Walk tour through rural areas and national parks. Spend your best 10 days for 2014 in Macedonia.
TOUR ITINERARY
Day 1
Arrival of guests and transfer from airport to Mavrovo, the biggest National Park in Macedonia. Overnight in Mavrovo.
Day 2
Cycling tour along the river Radika. Visit one of the oldest and most beautiful monasteries, St. Jovan Bigorski. Walking tour to Duf waterfalls. Transfer to Lazaropole and overnight.
Day 3
Walking tour around Lazaropole and we continue cycling towards Debar Lake. Transfer to Vevchani, a visit to the waterfalls and overnight.
Day 4
Cycling from Vevchani to Ohrid. Walking tour on Galichica mountain for some splendid views of Ohrid Lake. Overnight in Ohrid.
Day 5
Cycling along Ohrid Lake through the surrounding fisherman villages. A walk on Jablanica mountain and transfer through Albania to St. Naum monastery and Black Drim springs. Transfer to Ohrid and overnight.
Day 6
Free day for sightseeing in Ohrid city, "Jerusalem of the Balkans", and of course time for rest and swimming. Afternoon wine tasting and transfer to Strumica. Overnight in Strumica.
Day 7
Cycling in rural areas of Strumica, a visit to the waterfalls of Koleshino and Smolari. Transfer to Berovo. Afternoon visit to Berovo Lake to taste local meals and products. Overnight in Berovo.
Day 8
Cycling from Berovo to Pehcevo, followed by a walking tour to the waterfalls. Transfer to Skopje, overnight in Skopje.
Day 9
Cycling on Vodno mountain and Matka Canyon, the most famous outdoor destination near Skopje. Walking tour in the area. Overnight in Skopje.
Day 10
Transfer to airport and departure of guests.