HIGH UP IN THE MOUNTAINS | MTB TOUR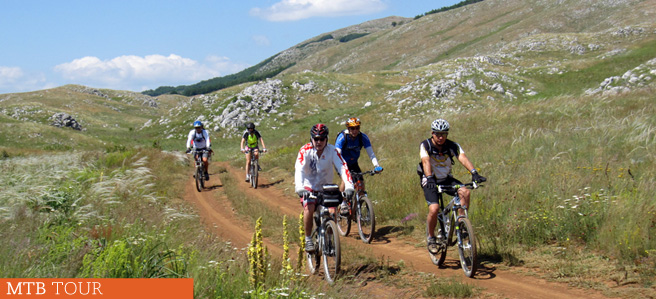 NON SCHEDULED TOUR WITH FLEXIBLE DATES
Duration:
10 days / 9 nights
Number of Participants:
2 - 12
Tour grade:
Moderate
Prices:
Confidental prices available upon request. Price depends on the number of participants and you can choose tour dates.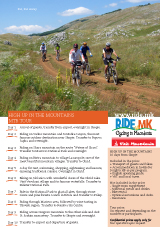 DOWNLOAD PDF
Bike Rental is available for this tour.
10 day tour for 2013 with some the best routes on Macedonian mountains. Ride and enjoy. Unspoiled nature, beautiful scenery, old mountain villages, traditional cuisine & wine. Everything you need for a perfect mountain bike holiday.
TOUR ITINERARY
Day 1
Arrival of guests and transfer from airport. Overnight in Skopje.
Day 2
Riding on Vodno mountain and to Matka canyon, the most famous outdoor destination near Skopje. Transfer to Popova Sapka and overnight.
Day 3
Riding on Shara mountain on the route "Waters of Shara". Transfer to Mavrovo National Park and overnight.
Day 4
Riding on Bistra mountain to village Lazaropole, one of the most beautiful mountain villages. Transfer to Ohrid and overnight.
Day 5
Free day for sightseeing in Ohrid city, "Jerusalem of the Balkans", and of course time for rest and swimming. Overnight in Ohrid.
Day 6
Biking on Jablanica with wonderful views of the Ohrid Lake. Visit Vevchani village and its famous waterfalls. Transfer to Pelister National Park.
Day 7
Ride in the National Park to glacial lakes, Pelister Eyes through stone rivers and pine forests. Lunch in Bitola and transfer to Prilep.
Day 8
Riding through Mariovo area, followed by wine tasting in Tikvesh region. Transfer to Ponikva Ski Centre.
Day 9
Riding across Osogovo mountain to the other side and visit St. Joakim monastery. Transfer to Skopje and overnight.
Day 10
Transfer to airport and departure of guests.